MET Connect™ Remote Access Solution
The MET Connect™ Service is the secure remote access solution you need for accessing and monitoring your remotely located control system network. No complex dynamic-DNS setup or static IP address provisioning with your data provider.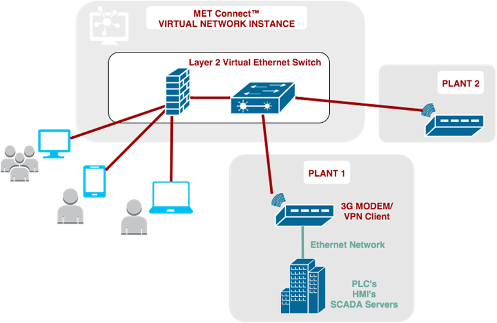 By linking your remote 3G MODEMs to the MET Connect™ Service, you achieve a low-cost, secure, enterprise-scalable remote access solution.
Multiple user accounts with custom access privileges
Simple firewall rules can allow some users restricted access to only certain devices whilst Engineer accounts can have complete unrestricted network access.
No Special SIM Card provisioning
Any off-the-shelf data plan from any mobile provider will work. No requirement for custom APNs, Public IP or Static IP Addresses.
Layer 2 – Ethernet Connection – Everyone on the same subnet
Your remote computer behaves as if it's plugged in directly to your network switch on-site. No requirement for default gateways programmed in all remote network devices. Broadcast packets work – Software for configuring PLCs or HMI's work as if you are physically plugged into the remote networks switch.
Audit Trail
Security logs show who logged in when. Packet logs can even be activated which captures exactly what each user did on the network.
Ease of Use
Very simple to setup, deploy and manage. No complex network configuration needed whatsoever. Discuss your network requirements with us, we can configure your MODEM, you simply plug it in and switch it on! Want more information, please contact us and we will be happy to help.
Supported on multiple platforms

Built-in support with every common OS – No client software to install
Every Major VPN Protocol Supported
L2TP/IPSec       OpenVPN       Microsoft SSTP       L2TPv3/IPSec       EtherIP/IPSec